Author:Shenzhen Cononmark Photographic Equipment Co., Ltd.issuing time:2017-12-14 16:43:11Views:5476【SML】
Cononmark i6TEX lamp is a high-energy company independent research and development and production of new products, 600ws, one of the outside lights.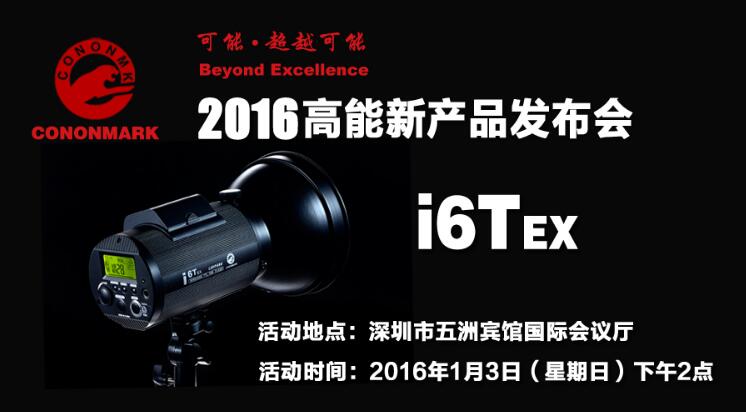 Cononmark i6TEX lamp is a high-energy company independent research and development and production of new products, 600ws, one of the outside lights.
On January 3, 2016, the Company will hold a new conference of i6TEX exterior lights at the Wuzhou Hotel in Shenzhen, awaiting the arrival of all photographers and photographers.
The company specially printed the desk calendar of photographers such as TOM, Bei Lan Pin and Chen Tian. The conference site will be signed by TOM teacher and Bei Lan Pin teacher and will be presented to the meeting photographers.

Organizer: High Energy Photographic Equipment Co., Ltd. Hummingbird Shenzhen Station
Co-organizers: Fifth-party photography training institutions Zhongguancun Online Shenzhen Club
Venue: Wuzhou Hotel, Shenzhen International Conference Hall
Time: January 3, 2016 (Sunday) at 2 pm
Activities invited guests: Beilan products (famous portrait photographer) TOM (hummingbird portrait portrait moderator) Hong Kong star photographer Lawrence, etc.

Activities:
1, bikini filming (conference site invited eight bikini models, shooting time 2 hours.
2, Master lectures (invited Beilan Pin teachers to share works and academic lectures on the spot)
3, product introduction (Hong Kong star photographer Ma Jinhong Lawrence introduction i6TEX high-energy external lights characteristics)
4, raffle (for participants to attend the press conference, out, including high-energy i6TEX lucky prizes, etc.)
Activities costs: free activities, and live lucky draw

Lottery:
1, high-energy i6T EX a beat lamp.
2, high-energy B4 one of the lights
3, high-energy flash lamp 5

Want to participate in the conference photographers and photographers can go to the hummingbird Shenzhen Station Sign Registration: http://bbs.fengniao.com/forum/5581239.html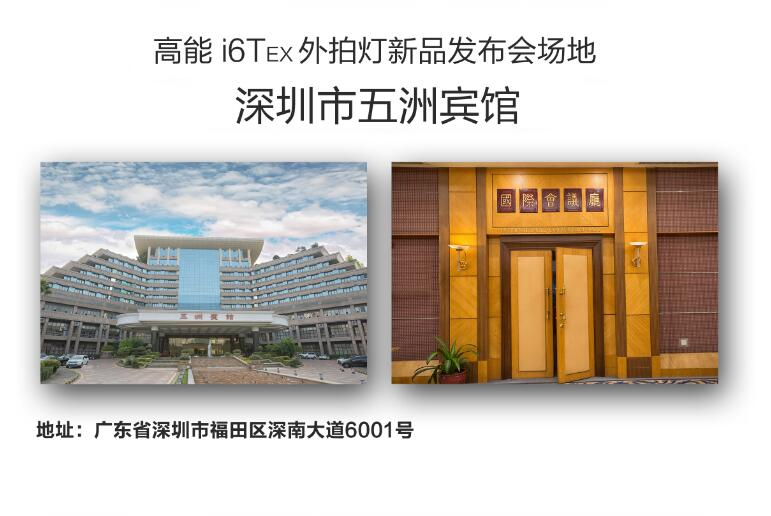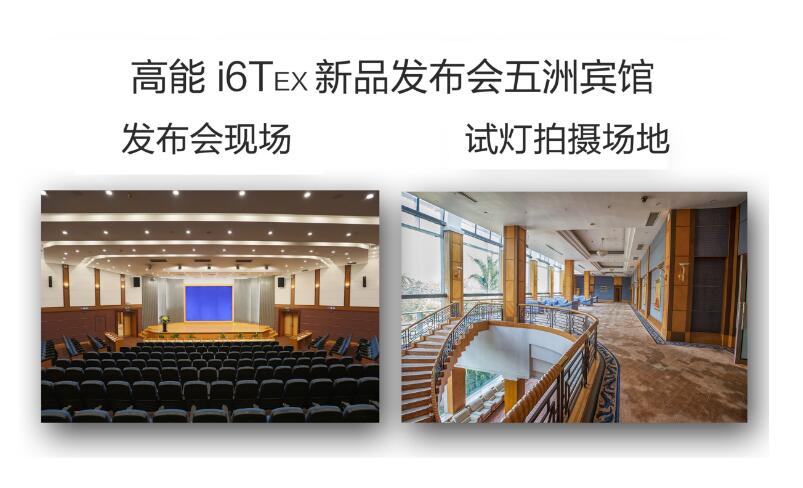 Guests: Bei Lanpin

Limpet product, a pure amateur photographers, for membership, competition, contribute little interest, prefer to work on an open network share, photography, and a blog is a major pastime in his spare time to spice up their lives . Respected the beauty of nature to travel to personal experience, the beauty of life with photography to enjoy the performance of the beauty of the art to use the blog to spread. Works style aesthetic portrait of the main environment, the performance of tactful euphemism, full of romantic warmth, works of elegance and taste.

In November 2005, he registered his own photography blog "Beilan Products & Vision" at the PConline photography tribe, and his interest in photography and his devotion made him become a well-known online photography in China in just a few years The number of click-throughs of photography bloggers exceeded 26 million. Today, he is busy amateur Pacific Internet also serves as moderator of portrait photography tribes, the land of China portrait photography network moderator, special assessment Foshan club Blanca photography network, special assessment Club Oak Photography Network Foshan, Foshan City Youth Photo Association consultant.

In recent years, he received a personal interview with the network "camera in the world", "western Sichuan image" and other magazines and photography Blanca net, has held several invited on portrait photography in Foshan, Shenzhen, Nanning, Jinan, Wuhan and other places art of public lectures with the majority of photographic film friends to share experiences, in late October 2009 should also China - ASEAN official invitation to the international Photography Festival Organizing committee, attended the opening ceremony of this session of the international Photography Festival as a special guest.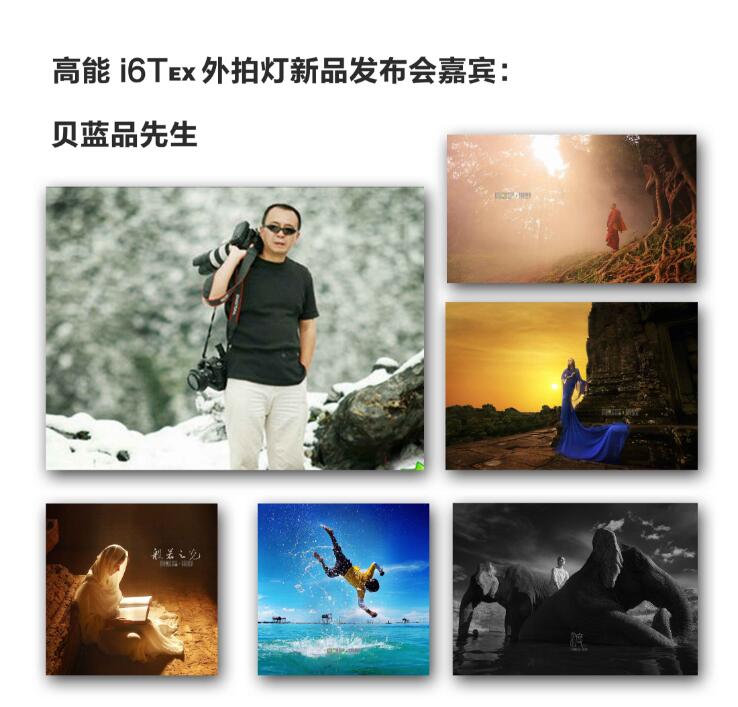 Guest: TOM

TOM's real name is Hsiu Hsing-sheng, a domestic cutting-edge portrait photographer who has been a moderator of Hummingbird Portrait for many years and an image writer for many well-known domestic magazines. His works have won prizes in the country. His unique perspective, exquisite ideas, connotation and soul of the rich works, every one of his works, make people tasteful, impressive, because the work already has a life. His work always reveals different cultural qualities. Seems to inadvertently enhance the beauty of the United States, and the demands of light and tone, is so harsh and natural.

His environmental portraits are unique in the country, blending people and scenery well, coordinating with light and shadow. The emphasis on detail and reproduction, so that works look so beautiful. Its interpretation of the fashion, always make people appreciate the traditional and emerging impact. TOM is an excellent mentor, he always educated, to help bring new people, under his guidance, a large number of photographers to grow into a cutting-edge representatives of the country.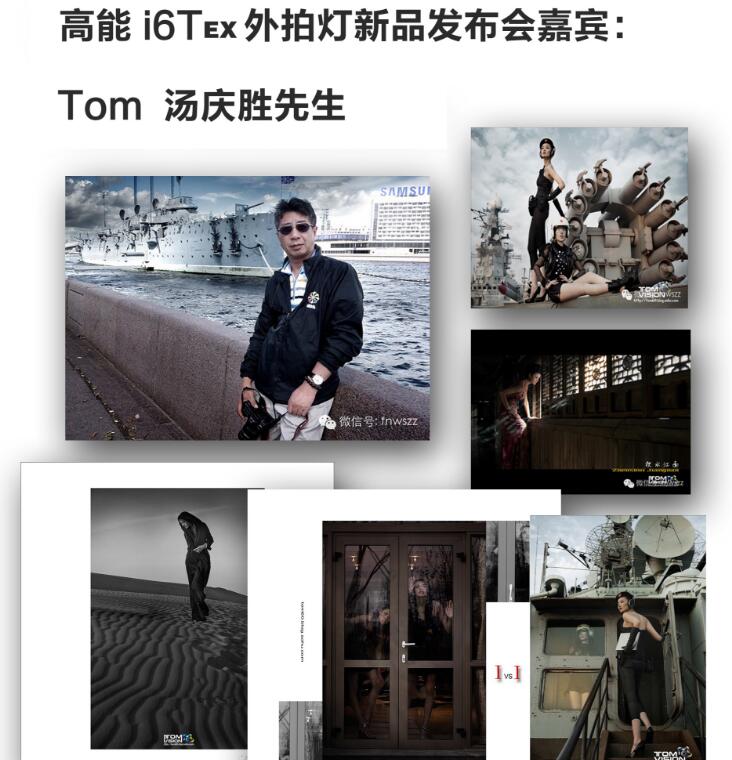 Guests: John Mak Lawrence (Hong Kong)

Hong Kong-star professional photographers, the main shooting celebrity endorsers advertising and fashion-based, wholly-owned Lawrence Studio has a wealth of commercial shooting experience, portrait photography and Studio lighting set to have a deep understanding, was a number of magazine interviews and public speeches.

Joey, Miriam, Charmaine, Miao Qiaowei, Moses, Chen Zhanpeng, Xiang Hai Lan, Huang Shuyi, Chen Baozhu, Luo Jiaying, Roland, Skye, Gaile, Becky Lee, Kung Ka Shin Katy, Marseille, Vonnie, Chrissie, Dada, Jeana, Wylien, Renee, Amanda S., Jacquelin Carl, Shi Xiu, Yu Anan, Li Xiangqin, Zhang Guoqiang, Esther, Samantha, Skye, Rooney, Suki, Sharon, Sherman, May, Vincy, Don, Erica, JJ, Sukie, Huang Yu, Cilla, June, Takayama, Takuya, aLin, Steven, Eunix, Vangie, Kathy, E-Cup Baby, Rosa, Margiela, Cherry, Yang Ming, Ceci, Wang Kaijun, Keith, Rannes, and many more.